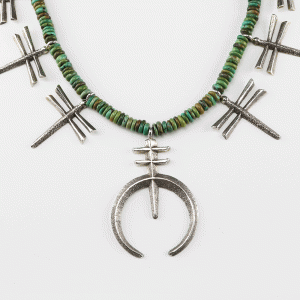 Quick View
In the mid 1800s, Navajo silversmiths started to use sand casting as one of their silversmithing techniques.  Today, silversmiths still use this technique by carving a design in tufa stone (a porous limestone) and then placing another stone against it.  The two pieces are fastened together and molten silver is...
Quick View
Zuni jeweler Quintin Quam made this beautiful dragonfly pendant.  Zuni artists are known for their fine lapidary skills.  Each stone is hand cut, polished, and set into a sterling silver setting.  The pendant is inlaid with Turquoise and Jet.  Weighs 3 grams.  Signed.  (Chain not included) 3/4" wide x  1 ...
Quick View
An alluring combination of colors with a mosaic of spiny oyster and turquoise inlaid on a jet base.  Zuni fetish carver Brian Yatsattie created this gorgeous dragonfly fetish.  A great addition to your Zuni fetish or Native American art collection. 1/2" tall x 2  3/4" long x 3" wide Zuni...