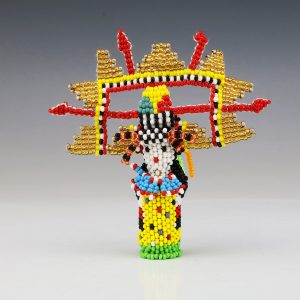 Quick View
Zuni beadwork has evolved from tourist souvenirs to detailed pieces of folk art.  First the Zuni artists carve a wooden form and then they bead over it, using the peyote stitch and seed or glass beads.  With a continuous strand, Zuni beaders meticulously create wonderful patterns throughout their beadwork.  This...
Quick View
Judy Toya is the daughter of renowned storyteller artist, Mary E. Toya.  Judy also makes traditional storytellers, as well as nativities and koshares.  Made out of natural clay, this delightful corn maiden is wonderfully painted with different colors of corn and corn husks painted on her back.  An unique addition...
Quick View
Zuni carver Todd Westika made this lovely corn maiden pendant out of orthoceras with sterling silver eyes and pendant finding.  A great addition to your Native American jewelry or Zuni fetish collection.  Weighs 12 grams. 1/4" tall x 2  1/8" long x 7/8" wide Orthoceras was a straight shelled nautiloid...